White Bear Lake Keeps the Lines Tight
This weekend, the Minnesota Bass Tour fished their second tournament of the season on White Bear Lake, presented by Blackfish Gear! It's been 5 years since our last event here and anglers were faced with fishing a lake that was 4 feet higher than it was back in 2014. Bass Tour members were also faced with the fun challenge of sorting through a large volume of 14-16 inch bass to try and beat the field.
Anglers attributed the large quantity of bass caught based on stable weather throughout the week, the fish coming out of the "post-spawn blues", and the on-and-off rain throughout the day that seemed to keep the pleasure boaters off the lake. Wearing Blackfish Gear kept us dry and comfortable and the limited number of jet skiers and wake boats meant we weren't being jostled off our key spots. The majority of the field found fish biting on just about anything tossed out however the Ned & Neko rigs, jig worms and drop shot resulted in the most bites according to the Tour's 14 teams.
---
White Bear Lake presented by Blackfish Gear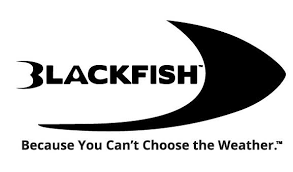 This is Blackfish's second year of being the Tour's Platinum sponsor. All season long, Blackfish Gear is awarding "Blackfish Bucks" to the Biggest Bass Winner for each tournament and for the eventual Team of Year. All members also enjoy generous considerations from their exciting line of outdoor clothing. Check them out at BlackfishGear.com!
---
Shake N' Bake Win and Get into the Team of the Year Conversation
Many fish were caught by teams but it was Shake N' Bake's Lucas Matzke and Derek Born that nabbed a couple big fish to pull ahead of the pack! Their total weight of 15.95 lb was anchored by a 4.45 lb largemouth bass. There success was similar to the rest of the field, with the focus on both Neko Rigs and Dropshots. The first place finish put them in second place in the team of the year race, only one point behind Team Roboworm! Besides the cash payout, these guys get their choice of Quantum reels!
---
The Rest of the Field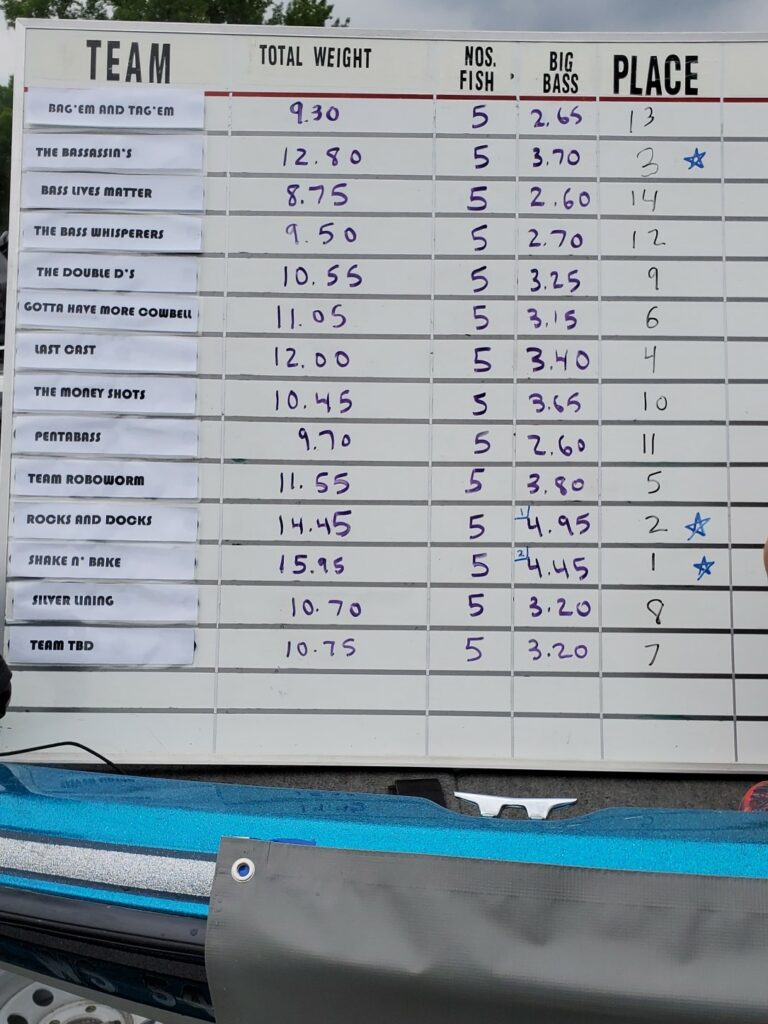 Just behind Shake N' Bake in 2nd place, Rocks & Docks team of brothers Chad and Derek Griggs with 14.45 lbs. They were launching drop shots for most of the day and had fun by mixing in a couple smallmouth bass! In doing so they earned 2 Onyx A/M-24 life jackets, courtesy of platinum sponsor Onyx Outdoor. In 3rd place, another team of brothers, Dan and Jim Krocak from the Bassassins earned the All-Terrain Tackle gift cards with their 12.80 lbs of largemouth bass. Dan and Jim found most of their success with jig woms and dropshotting .
---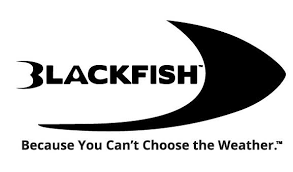 Blackfish Gear Big Bass #1 Award
Rocks & Docks anchored their second place finish with a 4.95 lb smallmouth bass. earning them $120 in Blackfish Bucks to spend on some of the most advance performance gear on the market today! Derek caught this on a drop shot over some scattered rocks. See more at the BlackfishgGear.com and their Facebook page!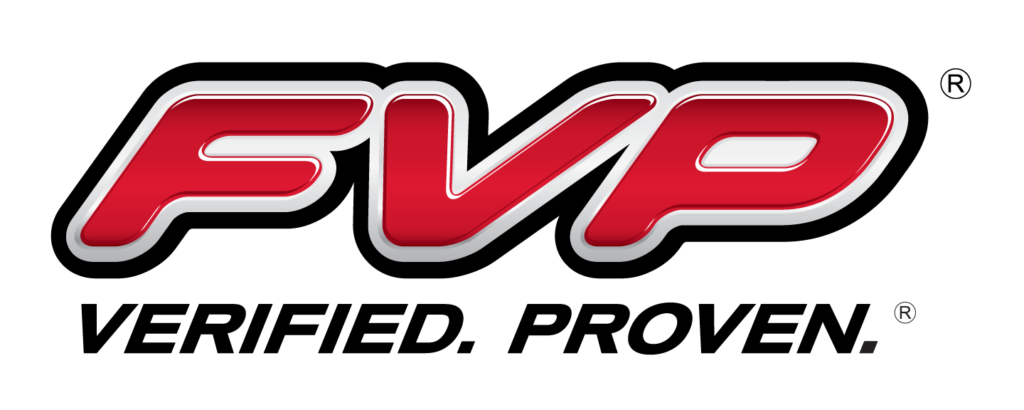 FVP Parts Big Bass #2 Award
Shake N' Bake also took the second largest bass honors for the day with a 4.45 lbs largemouth bass. As a result, they also win a fuel and wash package from platinum sponsor FVP.
---
Check out the Full Results Here!
See the complete White Bear Lake Results and Team of the Year Points Race by clicking here
Pictures and video will be posted soon here and on the Minnesota Bass Tour Facebook page.
Thank you to our event sponsor Blackfish Gear and other Platinum Sponsors of Clam Outdoors, Quantum Fishing, FVP Parts for their support of the Minnesota Bass Tour!
---
Next Up: Tourney #3 Lake Washington | July 14
This will be the first time we have fished Lake Washington as a tour event! It's always fun adding new lakes to our mix and looking forward to the new challenge.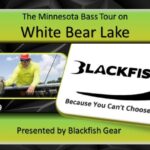 Pre-Tournament: White Bear Lake Prev post
Pre-Tournament: Lake Washington Next post