The Team of the Year Race Ends at Cass!
The conclusion of the Minnesota Bass Tour's 9th season is on September 7th and 8th with our Tournament of Champions on Cass Lake, presented by Blackfish Gear! Each season we compete on 5 lakes around the greater Twin Cities metro, accumulating points per event, to culminate in this extraordinary two-day tournament format. The result: crowning the eventual Minnesota Bass Tour Team of the Year.
Needless to say, all members agree that this is the most anticipated weekend of the season as it encompasses the four pillars of the MN Bass Tour: camaraderie, education, competition, and fun awards. And a heck of a lot of fun!
As we have done in the past, the Tournament of Champions or "TOC" brings us out-state. The waters are typically less familiar to most anglers and requires a completely fresh perspective in approach. Most anglers agree, education and instinct are paramount to get up-to-speed quickly on these new waters.
No doubt, Tour Members are going to be tested.
---
Payouts and Blackfish Gear Winners
For teams not in Team of the Year considerations, the weekend promises to excite with higher payouts than our regular season tourneys. Notably, the 1st place winning team gets two $120 Blackfish Gear certificates along with the cash payouts. Other exciting prizes get paired up with cash too, thanks to our platinum sponsors that have supported us all season long.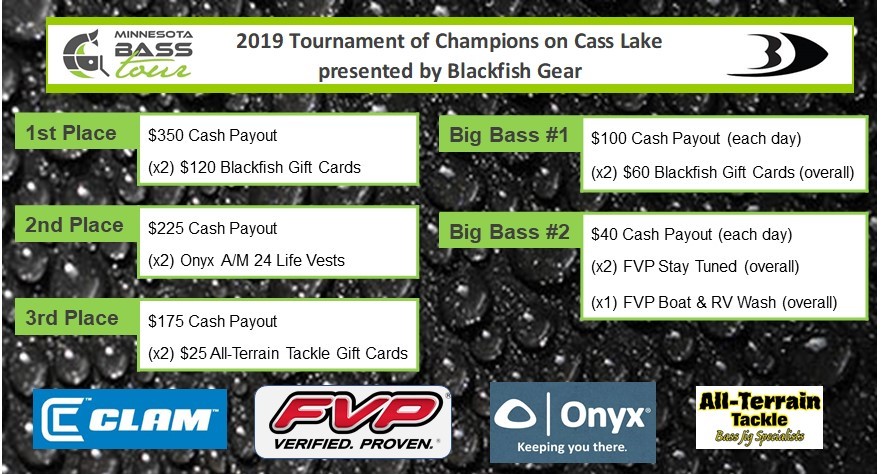 ---
FVP Team of the Year Race
Why else is this event so unique from other circuits? For Team of the Year, teams acquire points on both days in pursuit of the coveted title. Because of the 2 day point accumulation, point shake-ups are bound and guaranteed to happen!
Team Roboworm's Dan Cochran and Billy Linaugh are leading the race heading into the weekend with 57 points. As we have seen in the past, no lead is safe. The Shake N' Bake team of Lucas Matzke and Derek Born are slightly behind with 47 points and then a handful of teams make up a growing pack of wolves. Check tourney launch and details below for the current point totals.
Besides the FVP Team of the Year award, members will have their last chance to get the FVP Big Bass of the Year. Team Roboworm caught a 6.20lb bass on Lake Waconia and currently leads that charge.

---
Resort and Weekend Plan
The tour has accommodations at Sunset Cove on Cass Lake. We are ecstatic to be here as a nice central location to the Cass Lake chain of lakes. Any waters that can be navigated without going over dams and nets or getting out of your boat are open to anglers, including Big Wolf Lake, Lake Andrusia, Cass Lake, Pike Bay, Buck Lake, Kitchi Lake, Anderson Lake, Little Rice Lake and Big Rice Lakes.
While at the resort we continue the fun tradition of the Saturday night grill-out organized by Co-Director Jesse Larson, elk burgers provided by Paul Hecht and the subsequent, yet informal, end of season meeting around the campfire. For those not in the know, we as Directors use the campfire dialogue to shape how we will approach the 2020 season, the same way Members have helped shaped the Tour ever since our start in 2011.
---
Tournament #6: Cass Lake – 2 Day Cumulative Event
Dates-Time: September 7th and 8th | 7:00am – 3:00pm each day
Launch & Weigh-in Locations: at Sunset Cove Resort
Ease-off Order – Day 1 (Based on current Team of the Year points standings)
1. 57 pts | Team Roboworm (Dan Cochran, Billy Linaugh)
2. 47 pts | Shake N' Bake (Lucas Matzke, Derek Born)
3. 45 pts | Bag'em & Tag'em (Aaron and Ron Schmoldt)
4. 45 pts | The Money Shots (Jared and Jaxson Tidd)
5. 44 pts | Team TBD (Phil Krohn, Eric Tanberg)
6. 39 pts | Silver Lining (Jeremie Larson, Bruce Larson)
7. 38 pts | Gotta Have More Cowbell (Jesse Larson, Rocky Novak)
8. 37 pts | Last Cast (Paul Hecht, Mark Wessel)
9. 32 pts | Rocks & Docks (Chad Griggs, Derek Griggs)
10. 31 pts | The Bassassins (Dan Krocak, Jim Krocak)
11. 30 pts | The Bass Whisperers (Jeremy Abbott, Luke Wrubel)
12. 30 pts | The DD's (Dane Dornbush, Dan Lindahl)
13. 27 pts | Bass Lives Matter (Mike Raetz, Mike Davis)
14. 23 pts | PentaBass (Jared Simons, Mike Dippel)
It's the conclusion of the 2019 season with the Cass Lake TOC presented by Blackfish Gear! Stay tuned for the results as we crown this year's Team of the Year!
---
Good Luck on Cass Lake!
---
Other Tourney Notes
Additional Logistics and Info: MN Bass Tour members will receive a separate email with resort logistics and tournament info.
Tournament Subs: There are no current subs identified for the tournament, please notify tournament directors if plans change.
Non-Members: Sorry, the MN Bass Tour is not accepting any entries from individuals or teams that are not a part of the tour.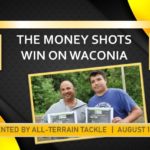 The Money Shots Win on Waconia! Prev post
TOC: Cass Lake Day 1 Results Posted Next post