The Season Wraps up at the Cass Lake TOC
The end of year Tournament of Champions, or "TOC", is by far the most anticipated event of the Minnesota Bass Tour due to it being a 2 day finale that historically factors heavily in ultimately crowning the Team of the Year. Thus was the case at Cass Lake presented by Blackfish Gear.
Day 1 of the TOC on Cass Lake was nothing short of outstanding and spoke to the quality of bass that can be had in this chain. Anglers caught a total of 226.30 lbs, second most in Tour history, only behind the 2016 Mille Lacs Lake catch-photo-release tourney of 244.85 lbs. It bested Lake Washington from earlier this year by 1.20 lbs!
Secondly, the numerous fans gathering at Sunset Cove Resort were given a special glimpse of a 6.80 lb largemouth caught by Team TBD's Phil Krohn and Eric Tanberg. The crowd's gasp was notable as this Kong represented the largest bass in the Minnesota Bass Tour's nine year history. TBD's giant eked out the 6.70 pound smallmouth caught by Last Cast at the 2016 TOC on Woman Lake.
Going into the final day of the season, Roboworm's Dan Cochran and Billy Linaugh had a 5 point lead over Shake N Bake and 6 point lead over Team TBD and Bag'em & Tag'em. With 3 teams gunning at them, the Team of the Year race again was going to entertain on Day 2 at Cass.
---
Day 2 Cass Lake Results
So after a record setting first day, minimal weather pattern changes, and what seemed to be a predictable top water bite – day 2 should be a barn burner – right?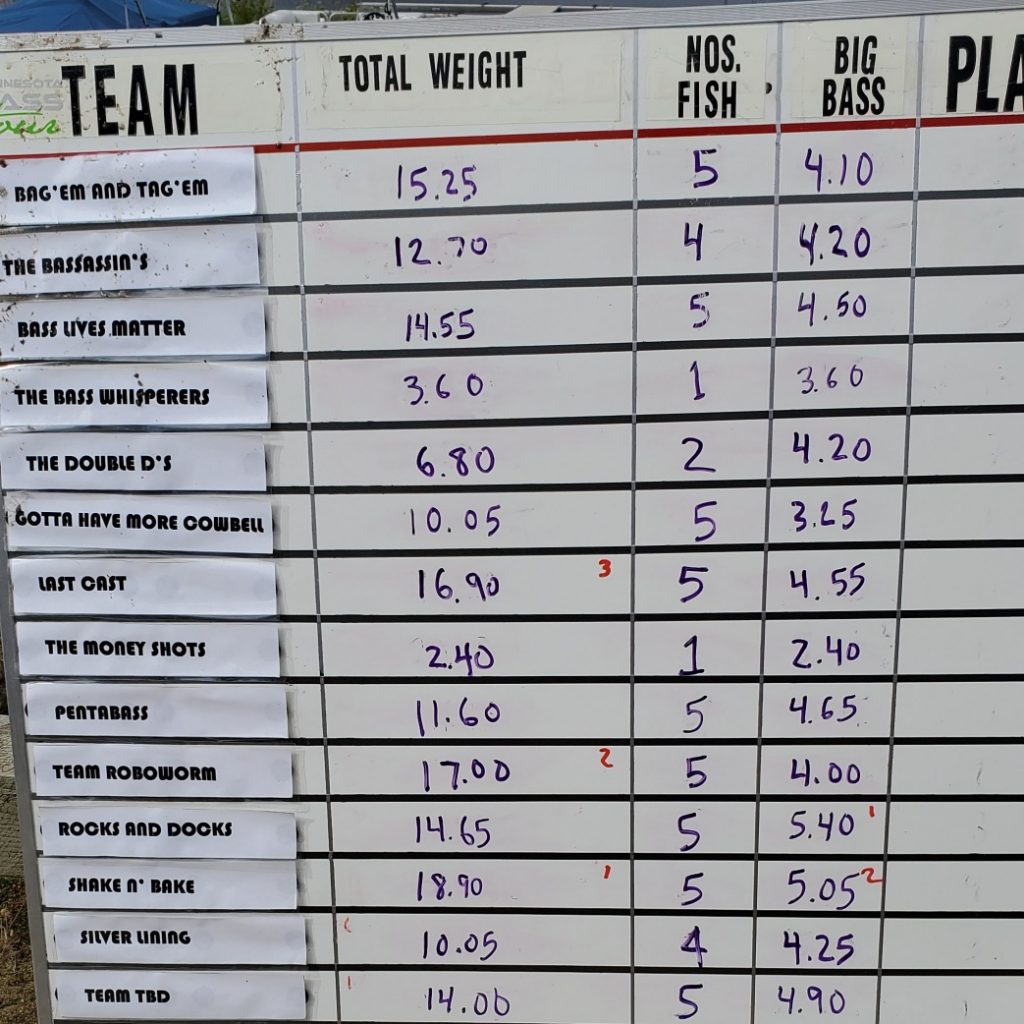 In short, with all that transpired the day before, Sunday's activity resulted in a much tougher bite for all anglers. 5 teams failed to weigh in a limit and with that the average weights lowered from 16 pounds to 12 pounds. The top 4 teams mentioned above were not the ones that struggled as much despite all admitting that they had to work especially hard for all their bites.
1st Place – Shake N' Bake – 37.00 Pounds
Lucas Matzke and Derek Born did what they needed to do on Day 2, besting their Day 1 total of 18.10 pounds with a 18.90 pound bag. Total weight for them was 37.00 pounds giving them 1st place at the TOC, $350, and two $125 Blackfish Gear gift certificates. These guys covered water and like most anglers, found fish on frogs and shallow rice and reeds. They anchored their Day 2 catch with the second biggest bass of the day with a 5.05 lbs. greenie.
2nd Place – Team TBD – 34.75 Pounds
Phil Krohn and Eric Tanberg caught 14.00 pounds on Day 2 patterning the shallows as they did the previous day. Frogs and swim jigs were helpful in their pursuit. They couldn't replicate the gigantic bass that popped Eric's frog on Day 1 but managed to still cash $225 and take home two Onyx A/M 24 Life Jackets from Onyx Outdoors. Their previous day's 6.80 lb. big bass awarded them the Blackfish Gear TOC Big Bass Award good for two $60 Blackfish gift certificates. Pretty good pocket change for the weekend, eh?
3rd Place – Last Cast – 34.00 Pounds
Mark Wessel and Paul Hecht are always a strong team since joining the Tour in 2013, even winning the 2018 Team of the Year. This weekend they came in 3rd place by sticking to their pencil reed pattern. Their consistent two day bite rewarded them with $175 and two $25 All-Terrain Tackle gift certificates.
---
Team Roboworm is the 2019 Team of the Year!
Roboworm entered the 2019 season with a chip on their shoulder. No one had to tell them how close they were to the Team of the Year title in 2018. Last year they entered Gull Lake in first place only to see the lake not play nice to them.
At the winter meetings at Roboworm HQ in St. Paul, Billy Linaugh reviewed game tapes to see what they could do differently in 2019. Dan Cochran cited the need to change things up – "go left when everyone goes right." Dan's meticulous thought string was heeded numerous times, notably Billy helped win the tournament on North & South Center by throwing crankbaits while everyone else threw everything but them.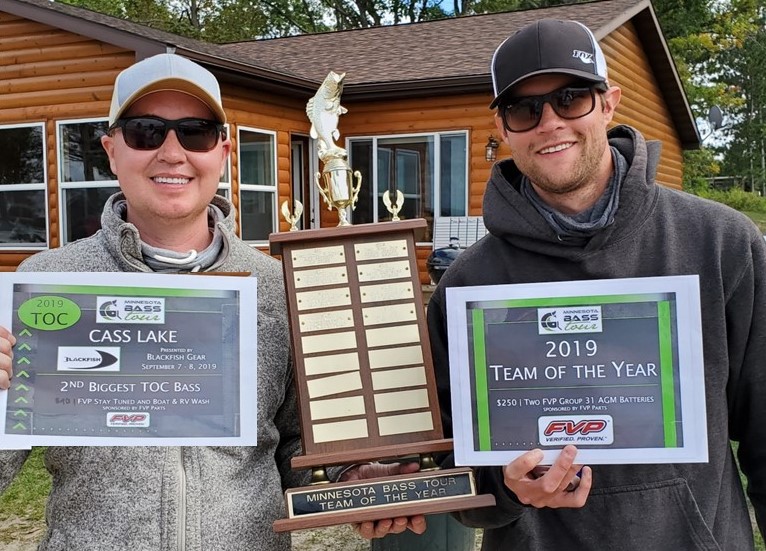 For this weekend on Cass Lake, they again did everything they needed to do to sustain the lead they held since the first tournament on Tetonka (1st place, 19.60 lbs). By placing 8th on Day 1 and 2nd on Day 2, Roboworm totaled 77 Team of the Year points to eke out the hard charging Shake N' Bake by 4 points!
By having an extensive off-season program, staying consistent and sticking to their strengths all season long, Dan and Billy won the 2019 FVP Parts Team of the Year that included $250 and two 31 AGM FVP Parts Marine Batteries. Most notably, their names are etched into Minnesota Bass Tour history on the Team of the Year trophy!
Congrats to these guys on a stellar year!
---
FVP Parts – Big Bass of the Year
As mentioned above, Team TBD's 6.80 lb. bass was the largest ever bass caught in Minnesota Bass Tour history. They win the FVP Big Bass of the Year Award with two $75 Tackle Warehouse gift cards courtesy of FVP Parts.
---
2019 TOC Wrap-up
A huge thanks to Lucas Matzke for organizing the accommodations at Sunset Cove and the sponsorship prizes for winners. Jesse Larson and Paul Hecht once again kept the troops fed and full on Saturday night with the annual cookout of elk burgers, cheese curds, tots and fries from the fryer. There is simply no better way to end Day 1 then with that fun event, the yard games and then a campfire chat recounting the year and suggestions for 2020.
At the campfire, Tour members identified various lakes to fish next year, including opportunities to explore new lakes for the weekend TOC. Tour Directors had their notepad going and will be looking up resorts over the next couple months to see what can be done. Members also mentioned opportunities for enhanced communication for anglers and potential for additional catch-photo-release tourneys. Similarly, we will look at these and see if we can try these out for 2020.
As for the fishing, the Cass Lake TOC presented by Blackfish Gear definitely had the chain showing its fish quality. Director Jeremie Larson noted that these bass "were the widest bass when compared to their lengths." Another member noted "muscular freaks", perhaps influenced by the river water genes that these lake bass might still have in their genetics. Their attacks on topwater frogs were all together vicious too. Keep fingers and toes in the boat, y'all.
The TOC and frankly the season wouldn't be what it is without the following Platinum sponsors, we wish to thank them all for their support.

Once again, congratulations to Roboworm's Dan Cochran and Billy Linaugh for their first Minnesota Bass Tour Team of the Year title. Keep an eye out for a more formal seasonal wrap up in the coming weeks.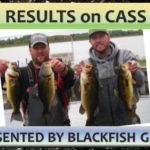 TOC: Cass Lake Day 1 Results Posted Prev post
Pre-Tournament: Lake Koronis Next post