Going Back to "The Bear!"
White Bear Lake is the second stop this year for the MN Bass Tour and is the second time we have visited this body of water situated in the northern suburbs of the Twin Cities. The first time was also the second tournament of that 2014 season however the lake conditions were dramatically different.
Like 4 feet shallower dramatically different! You'd would think this was a more like a southern reservoir with that volume of water being drawn out and then refilled!
White Bear Lake is being presented by our Platinum Sponsor Blackfish Gear. As tournament fishermen we "can't choose the weather" but you can bet rain or shine, Blackfish will have us protected from the elements every time we're out on the water! Check out all their fine products at BlackfishGear.com.
A lake that is known for both largemouth and smallmouth bass, our 2014 event proved to be a tough one – post-spawn conditions, multiple weather systems throughout the day, and overall tough bite. Heck, just 12.60 lbs being the winning weight by the Bassassins!
Just as the water levels have rebounded in dramatic fashion, we fully expect the weights of the MN Bass Tour teams to easily surpass that modest finish 5 years ago. Here's the schedule, lake details and ease-off order:
---
Tournament #2: White Bear Lake
Date-Time: Sunday, June 23 | 6:00am – 2:00pm
Launch & Weigh-in Locations
Ramsey County Public Access on north side of the lake (Google Maps link)
Ease-off Order (Facebook Live drawing here)
1. Team TBD (Phil Krohn, Eric Tanberg sub. Andy Peterson)
2. PentaBass (Jared Simons, Mike Dippel)
3. Last Cast (Paul Hecht, Mark Wessel)
4. Silver Lining (Jeremie Larson, Bruce Larson)
5. Rocks & Docks (Chad Griggs, Derek Griggs)
6. The Bassassins (Dan Krocak, Jim Krocak)
7. Gotta Have More Cowbell (Jesse Larson, Rocky Novak)
8. DD's (Dane Dornbush, Dan Lindahl)
9. Bass Lives Matter (Mike Raetz, Mike Davis)
10. The MoneyShots (Jared and Jaxson Tidd)
11. Shake N' Bake (Lucas Matzke, Derek Born)
12. The Bass Whisperers (Jeremy Abbott, Luke Wrubel sub Loren Jannet)
13. Bag'em & Tag'em (Aaron and Ron Schmoldt)
14. Team Roboworm (Dan Cochran, Billy Linaugh)
Payouts & Awards
1st Place – $245 and two Quantum Reels
2nd Place – $150 and two Onyx A/M 24 Life Jackets
3rd Place – $100 and two $25 All-Terrain Tackle gift cards
Big Bass #1 – $100 and two $60 Blackfish Bucks
Big Bass #2 – $40 and FVP Stay Tuned and Boat Wash package
---
Other Tourney Notes
Tournament Subs: Bass Whisperers and Team TBD have announced subs, please let us know if there are any other updates.
No Wake Zones: Please be aware of the various buoys throughout the lake indicating shallow water and swimming areas. The lake gets a lot of traffic later in the day, especially if we have nice weather so take care while out on the water. Please be considerate of those markers and other boaters.
---
Good Luck this weekend on White Bear Lake!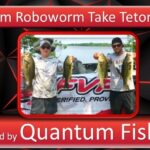 Team Roboworm Take Tetonka! Prev post
Shake N' Bake Wins on the WBL! Next post