Brand New Year, Brand New Lake!
This Sunday, June 2nd, the Minnesota Bass Tour will open up our 9th season on the southern bass factories of Lake Tetonka and Lake Sakatah. Once again this year, we continue our tradition of fishing new bodies of water with the goal of making us better fisherman rather than repeating the same lakes year over year.
Lake Tetonka is being presented by Quantum Fishing, a generous and select Platinum sponsor of Minnesota Bass Tour.
Along with this event, the team nabbing the largest bag FOR EVERY tournament this year will be taking home two Quantum Performance Tuned reels! Go to Quantum's website and Facebook page to check out more about their family of reels, rods and apparel!
Tetonka and Sakatah should be in the prime fish catching window of the spawning migration. Other contests held here regularly throughout the year routinely have five fish limits of above the mystical 20 pounds mark. The weather is looking to cooperate for this event, how many 20 lb bag(s) will we see?
So with the prolonged off-season behind us and now the short nights upon us, let's kickoff 2019 and have a fun and educational season! Here's the schedule, lake details and ease-off order:
---
Tournament #1: Lake Tetonka
Date-Time: Sunday, June 2    |    6:00am – 2:00pm
Launch & Weigh-in Locations
Lake Tetonka Public Access on south side of the lake (Google Maps link)
Ease-off Order  (See it drawn on our Facebook page too )
1. Bag'em & Tag'em (Aaron and Ron Schmoldt)
2. The Bassassins (Dan Krocak, Jim Krocak)
3. Team TBD (Phil Krohn, Eric Tanberg)
4. The Bass Whisperers (Jeremy Abbott, Luke Wrubel)
5. Team Roboworm (Dan Cochran, Billy Linaugh)
6. Gotta Have More Cowbell (Jesse Larson, Rocky Novak)
7. The MoneyShots (Jared and Jaxson Tidd)
8. DD's (Dane Dornbush, Dan Lindahl)
9. Shake N' Bake (Lucas Matzke, Derek Born)
10. Silver Lining (Jeremie Larson, Bruce Larson)
11. Rocks & Docks (Chad Griggs, Derek Griggs)
12. PentaBass (Jared Simons, Mike Dippel)
13. Bass Lives Matter (Mike Raetz, Mike Davis)
14. Last Cast (Paul Hecht, Mark Wessel)
Payouts & Awards
1st Place – $245 and two Quantum Reels
2nd Place – $150 and two Onyx A/M 24 Life Jackets
3rd Place – $100 and two $25 All-Terrain Tackle gift cards
Big Bass #1 – $100 and $60 Blackfish Bucks
Big Bass #2 – $40 and FVP Stay Tuned and Boat Wash package
---
Other Tourney Notes
Tournament Subs: Tour Director Jeremie Larson will be sitting this one out but his nephew will be fishing in his absence with partner (and Granpa) Bruce Larson.
No Wake Zones: While there aren't speed restrictions on the lake, there are slow zone between the two lakes. Please be considerate of those and other boaters. Remember to be be off-plane prior to entering the buoyed off entrances.
---
Good Luck this weekend on Lake Tetonka!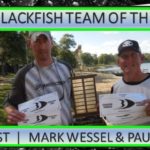 Last Cast Wins 2018 Team of Year! Prev post
Team Roboworm Take Tetonka! Next post