The 2018 season officially started as 14 teams descended to East and West Rush Lake sponsored by Quantum Fishing! The weather turned cold from previous days, with air temps down to the low 60's and a blustery NW wind at 10 mph – 20 mph wind. Never seems to fail getting the tougher conditions come tournament days, right?
But challenging our mental attitude and learning to catch them in those conditions continues to make us better anglers!
For many fans of the Minnesota Bass Tour, the first tournament once again allowed them to get up close and personal to see their favorite teams like The Bassassins, Shake N' Bake, Silver Lining, and Gotta Have More Cowbell hoisting up big bucketmouth bass and speaking to their techniques in the 3rd person. Other teams shelled out autographs for fans that were in attendance and picture opps were aplenty! Clearly a lot of excitement to start 2018 – our best year yet for the Minnesota Bass Tour!
2017 Team of the Year Flippin' Ain't Easy of Rob Bolke and Aaron Schmoldt were donning the symbolic target on their backs, being put on notice that this year teams were coming after their hardware. That being said, they came to fight and finished in 5th for the weekend fully knowing it is always a long and grueling season here on the Tour.
Roboworm Claims Their First Tour Win!
Major congrats to Team Roboworm of Dan Cochran and Bill Lynaugh with 18.10 lbs and locking up their first Tour victory! To my surprise I had to validate this because the thing is, these guys have finished in the money in the past and are always a danger to opposing teams, but now it's official. Excellent work boyz! They anchored their catch with the biggest bass of the tournament, a 4.90 lb green bass that gave them $100 and also the Blackfish Gear Big Bass award! Their day was about covering water in the shallows and throwing a mix of senkos and frogs at shallow structure and in the bays.
The Rest of the Field
In 2nd place, The DD's of Dane Dornbush and Dan Lindahl found the right mix of largies, even culling 2 in the waning minutes of the tournament to give them the edge over the next team at 15.80 lbs. Jared Simons and Mike Dippel of PentaBass took 3rd with 15.60 lbs but also had the All-Terrain Tackle second largest bass of the day at 4.85 lbs! Lastly Shake N' Bake (Lucas Matzke and Derek Born) took 4th place earning them the Big Bite Baits prize pack.
Overall, teams commented how that despite the wind and water temps dropping, fish could still be found around shoreline structure. Reeds, pads, 'foil, sand… the mix of those were all key structure areas. By covering water and throwing a mix of baits, anglers caught them throughout the day. Key baits included senkos, frogs, spinnerbaits, and chatterbaits. If you were throwing the swim jig, you would get bit, but oftentimes it was a northern pike on the end of the line!
See the East & West Rush Lake results by Clicking Here.
Pictures and video will be posted soon here and on the Minnesota Bass Tour Facebook page.
Blackfish Gear Big Bass Award
Team Roboworm claims the Blackfish Gear Big Bass of the day, a 4.90 lbs oinker. Along with the side pot cash, Dan and Billy receive their choice of Blackfish Gear technical gear shirts courtesy of Blackfish! Check out all their innovative apparel at the Blackfish website and Facebook page!
Thank you to our Platinum Sponsors of Quantum Fishing, Clam Outdoors, and Blackfish Gear for their support of the Minnesota Bass Tour!
---
Next Up: Clearwater Lake on June 24th
This will be the 5th time the Minnesota Bass Tour has visited Clearwater, the last being in July of 2016. This lake and the past weather conditions has made the past results seem up and down so it will be interesting to see how we adapt to a late June bite!
Stay tuned for another Facebook Live drawing for boat order!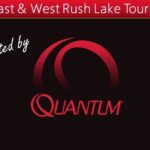 Pre-Tournament: East & West Rush Lakes Prev post
Pre-Tournament: Clearwater Lake Next post