The Mississippi River Tournament presented by Spro Sports Professionals!
Summer is flying by and as it would be, we are already in the second half of the season!
Tourney #4 brings us back to the Mississippi River but this time launching out of the city of Wabasha. With the region having some big time rain over the past month, river conditions may be slightly faster and backwater areas slightly "sloppier." Whether its the smallmouth or largemouth bass that are brought to the scales, it's sure to be a competitive tournament.
Already this year we have had 3 different lead changes for Team of the Year and right now it's Team Roboworm that has a 2 point lead over the competition. Stout competition from the tour doesn't guarantee any lead is safe and with fishing America's mightiest river, we know anything can happen.
This weekend's tournament is presented by Spro Sports Professionals. Winners of this event are going to get  mess of Spro tackle as highlighted on our recent Facebook Post. With lures that target every level of the water column, Spro will help make sure the heaviest bags always come to the scales!
Here's the schedule, lake details and ease-off order:
---
Tournament #4: Mississippi River
Date-Time: Sunday, July 29    |    6:00am – 2:00pm
Launch & Weigh-in Locations
Izaak Walton Municipal Park Access (Google Map link).
Ease-off Order
1. Rocks & Docks (Chad Griggs, Derek Griggs)
2. The Bassassins (Dan Krocak, Jim Krocak)
3. Team StrikeForce (Aaron Grefsrud, Derek Jacobson)
4. The Bass Whisperers (Luke Wrubel, Loren)
5. The Money Shot (Jared and Jaxson Tidd)
6. DD's (Dane Dornbush, Dan Lindahl)
7. Shake N' Bake (Lucas Matzke, sub Brian Lindberg)
8. Last Cast (Paul Hecht, Mark Wessel)
9. Team TBD (Eric Tanberg, sub Matt Feiten)
10. PentaBass (Jared Simons, Mike Dippel)
11. Team Roboworm (Dan Cochran, Billy Linaugh)
12. Flippin' Ain't Easy (Rob Bolke, Aaron Schmoldt)
13. Gotta Have More Cowbell (Jesse Larson, Rocky Novak)
14. Silver Lining (Jeremie Larson, Bruce Larson)
As has been for each tournament this year, the team with the Big Bass will receive $100 cash and apparel prizes from Blackfish Gear. The second biggest bass will get some cash too along with All-Terrain Tackle packs! And packs of Big Bite Baits will be awarded to the "Better Luck Next Time" 4th place team!
---
Other Tourney Notes
Tournament Subs: Brian Lindberg will be joining Lucas Matzke of Shake and Bake. Loren will be subbing with Luke Wrubel of The Bass Whisperers. Matt Feiten will be subbing for Phil Krohn on Team TBD.
---
Good Luck this weekend on the Mississippi River!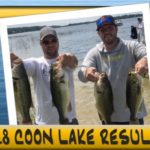 "Tiller Boats Dominate" on Coon Lake! Prev post
Flippin' Ain't Easy Wins in Wabasha! Next post