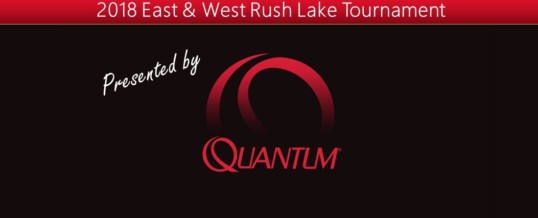 Let's Kickoff the 2018 Season!
This Sunday marks the first stop of the Minnesota Bass Tour is on East & West Rush Lake located in Chisago County. It's been a long off-season and it couldn't get here fast enough!
The last time the Tour was here was in July of 2014, certainly a different point in the season, especially in contract to the late ice out we have experienced this year. It was a tougher bite laden with a storm that came on through and then oppressive heat, let's hope the shallow bite stays hot and we can see some real piggies coming to the scales!
Tourney #1 presented by Quantum Fishing
Now here's something new this year for the Tour: we've partnered with some awesome fishing and outdoor brands. For East & West Rush Lake, our partners at Quantum Fishing are the event's tournament sponsor meaning besides the cash prize, the winners of this event will each receive Quantum Smoke HD PT Baitcasting reel, perfect for winching even more bass into the boat this summer. Quantum is Performance Tuned, making them the reel of choice for the Minnesota Bass Tour. Go to their website and their Facebook page to check out more about their family of reels, rods and apparel!
So the offseason was long and now the nights are short, especially as the eve of the first tournament arrives! Let's Kickoff 2018 and have a fun and educational season!
Here's the schedule, lake details and ease-off order:
---
Tournament #1: East & West Rush Lake
Date-Time: Sunday, June 3    |    6:00am – 2:00pm
Launch & Weigh-in Locations  East Rush Public Access (Google Maps Link)
Ease-off Order  (See it drawn on our Facebook Live Drawing too )
1. DD's (Dane Dornbush, Dan Lindahl)
2. The Bassassins (Dan Krocak, Jim Krocak)
3. Team TBD (Phil Krohn, Eric Tanberg)
4. Silver Lining (Jeremie Larson, Bruce Larson)
5. The MoneyShots (Jared Tidd, Jaxson Tidd)
6. Team Roboworm (Dan Cochran, Billy Linaugh)
7. Rocks & Docks (Chad Griggs, Derek Griggs)
8. Last Cast (Paul Hecht, Mark Wessel)
9. The Bass Whisperers (Jeremy Abbott, Luke Wrubel)
10. Gotta Have More Cowbell (Jesse Larson, Rocky Novak)
11. Flippin' Ain't Easy (Rob Bolke, Aaron Schmoldt)
12. Team StrikeForce (Aaron Grefsrud, Derek Jacobson)
13. PentaBass (Jared Simons, Mike Dippel)
14. Shake N' Bake (Lucas Matzke, Derek Born)
Payouts & Awards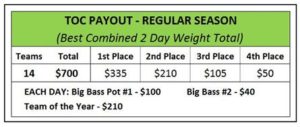 Also the team with the Big Bass will receive $100 cash and apparel prizes from Blackfish Gear. The second biggest bass will get some cash too along with All-Terrain Tackle packs!
---
Other Tourney Notes
Tournament Subs: None known/communicated about at this time, If others are going to require a sub, please notify tournament directors.
Minnesota Bass Tour Clothing Delivery: 10K Apparel is again crafting some killer gear for us! Remember to get your order in and have your money for the orders brought to the tournament. We will be showcasing some of it in our next tournament posts!
---
Good Luck this weekend on East & West Rush Lake!
Share