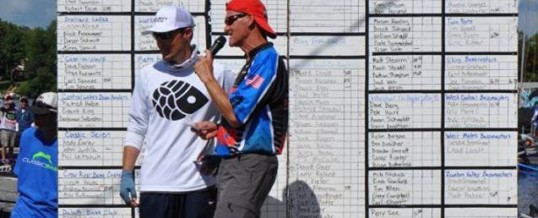 35.68 lbs of Mille Lacs Smallmouth!
We're excited to congratulate Aaron Schmoldt of Flippin' Aint Easy for his 3rd place finish this past weekend in the non-boater division at the MN BASS Federation tournament of champions held on Mille Lacs Lake!
Aaron caught 35.68 lbs over the two day event nearly beating out 200+ anglers over the course of the event.
His 3rd place finish (21st overall with boaters) earned him a prestigious place on the Minnesota BASS regional team. For those not aware, the Minnesota BASS Federation is the grass roots clubs platform for getting to the Bassmaster Classic! To qualify is indeed is an honor considering such a large and accomplished field of anglers.
True to his humble demeanor, Schmoldt stated, "Unfortunately I had the fish on to win the darn thing but didn't capitalize. I had a blast up there, I'm grateful for the experience and overall happy with my finish."
He added, "Those fish are on steroids up there!"
2018 and Beyond
The location for the 2018 regional is TBD but Aaron indicated it's either between our very own Lake Vermilion or Table Rock Lake in Missouri. Coincidentally, Lake Vermilion happens to be where the MN Bass Tour's TOC is being held at the beginning of September so would be great for members to share intel with him should it be chosen!
Aaron Schmoldt is founder of the Equipt Fishing online performance fishing apparel site, accomplished MN Bass Tour Member and now part of an elite group that will be representing the state of Minnesota next year! Our tour takes pride in having the best amateur bass anglers and sportsmen and we are certainly proud of one of our own.
Congratulations from the Minnesota Bass Tour!
---
Check out Aaron and Equipt Fishing on the web (www.equiptfishing.com), Facebook, and Instagram.
More info on the results can be viewed on the Minnesota Bass Federation site (www.mnbfn.org) and on their Facebook page.
Share