The first tournament is finally here!
Is anyone else itchy to get out and to shed or relive the memories of last season? Well it's finally time: this weekend brings us to the familiar waters of Lake Koronis and Rice Lake, located just southeast of Paynesville.
The last time our tour was here was in 2015 where Team StrikeForce of Aaron Grefsrud and Derek Jacobson won with 18.30lbs. Collectively the results were nothing short of spectacular with over 10 of the 14 teams coming in with over 15lbs of fish and at that time, marking that event as the highest total weight caught by the bass tour to that date. Past results can be viewed here.
The spring conditions and promising weather on Sunday hopefully will bring similar bags to the scales! Here's the schedule, lake details and ease-off order:
---
Tournament #1: Lake Koronis
Date-Time: Sunday, June 4    |    6:00am – 2:00pm
Launch & Weigh-in Locations
East Side DNR Public Access ("Norman Dahlman Public Access") located off Highway 55 and where the creek leaves Koronis to go to Rice Lake. (Google Maps link).
No-Wake Zones
As always, no-wake laws are to be obeyed. Tour directors will do their best to convey locations to members at the launch however it is the responsibility for anglers to be fully aware of any that may exist. There may be a no-wake zone that has been extended further into the adjacent bay from the public access which we will confirm that morning. Teams must be back to the public access by 2:00 so please plan ahead your return to weigh-in for any time needed to drive through a slow zone!
Ease-off Order
1. Last Cast (Paul Hecht, Mark Wessel)
2. PentaBass (Jared Simons, Mike Dippel)
3. DD's (Dane Dornbush, Dan Lindahl)
4. Shake N' Bake (Lucas Matzke, Derek Born)
5. Flippin' Ain't Easy (Rob Bolke, Aaron Schmoldt)
6. Silver Lining (Jeremie Larson, Bruce Larson)
7. Team Roboworm (Dan Cochran, Billy Linaugh)
8. The Bass Whisperers (Jeremy Abbott, Luke Wrubel)
9. Rocks & Docks (Chad Griggs, Derek Griggs)
10. Flippin' & Lippin' (Mike Doughty, Tim Krebs)
11. Team StrikeForce (Aaron Grefsrud, Derek Jacobson)
12. Bass Lives Matter (Mike Raetz, Mike Davis)
13. The Bassassins (Dan Krocak, Jim Krocak)
14. Gotta Have More Cowbell (Jesse Larson, Rocky Novak)
Payouts & Awards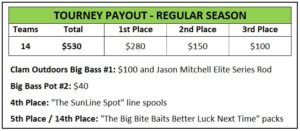 ---
Other Tourney Notes
Welcome New Teams:
Bass Lives Matter – Mike Raetz and Mike Davis
Rocks & Docks – Chad Griggs and Derek Griggs
Safe Handling of Bass: As a reminder, the MN Bass Tour will uphold the safe care and release of bass. If tournament directors observe any careless handling of bass, that team's bag will be disqualified for that tournament.
Tournament Subs: None known/communicated about at this time, If others are going to require a sub, please notify tournament directors.
---
Good Luck this season on the Minnesota Bass Tour!
Shake N' Bake Wins Big on Koronis! Next post