The MN Bass Tour Grand Finale!
It's the grand finale of this year's MN Bass Tour and the conclusion of our 7th season brings us to the splendor of Lake Vermilion!
This year's Tournament of Champions ("TOC") promises to create one of the most dynamic endings for the Team of the Year race where 6 teams are within 9 points of each other and even a few others ready to pounce should top teams stumble! 
Points are accumulated each day so there is potential for a lot of movement!
For those teams eliminated from Team of the Year considerations, they'll still have a blast chasing daily big bass awards, winning the cash for the highest 2-day weight, and celebrating the completion of another fun and educational season.
Lake Vermilion's "Sun-Tinted Waters"
…How could anyone not lose themselves on this lake known to the Ojibwa as Lake Nee-Man-Nee meaning "the evening sun tinting the water a reddish color"?
MN Bass Tour members will be on one of the most breathtaking fisheries that touts over 300 miles of shoreline, 39,000 acres of water, and some of the chunkiest smallmouth and largemouth bass anywhere in North America.
This will be yet another historical weekend for Minnesota's premier bass fishing tournament league!
So…What's All On Tap?
My Co-Director Jeremie Larson and MN Bass Tour Member Dan Lindahl have done an outstanding job coordinating accommodations for the group who will be housed in two adjacent resorts – Trancheffs and Grubens located not far from the city of Tower.
We will also continue our storied tradition of the Saturday night grill out organized by Co-Director Jesse Larson and the subsequent, yet informal, end of season meeting around the campfire.
For those not in the know, we as Directors use the "campfire dialogue" to shape how we will approach the 2018 season, the same way Members have helped shaped the Tour ever since our start in 2011.
And last but not least, Platinum Sponsor Clam Outdoors continues their support with awards and product for tour members just as they have been with us throughout the season!
It's the conclusion of the 2017 season with the Lake Vermilion TOC, stay tuned for the results as we crown this year's Team of the Year!
Here's the schedule, lake details and ease-off order:
---
Tournament #6: Lake Vermilion – 2 Day Cumulative Event
Dates-Time: September 9th and 10th    |    7:00am – 3:00pm each day
Launch & Weigh-in Locations  Trancheffs and Grubens Resorts
Ease-off Order – Day 1  (Based on current Team of the Year points standings)
1. Silver Lining (Jeremie Larson, Bruce Larson) – 55 pts
2. Flippin' Ain't Easy (Rob Bolke, Aaron Schmoldt) – 50 pts
3. Shake N' Bake (Lucas Matzke, Derek Born) – 49 pts
4. Rocks & Docks (Chad Griggs, Derek Griggs) – 49 pts
5. Last Cast (Paul Hecht, Mark Wessel) – 48 pts
6. Flippin' & Lippin' (Mike Doughty, Tim Krebs) – 46 pts
7. Team Roboworm (Dan Cochran, Billy Linaugh) – 43 pts
8. The Bassassins (Dan Krocak, Jim Krocak) – 41 pts
9. Team StrikeForce (Aaron Grefsrud, Derek Jacobson) – 35 pts
10. DD's (Dane Dornbush, Dan Lindahl) – 28 pts
11. Bass Lives Matter (Mike Raetz, Mike Davis) – 24 pts
12. The Bass Whisperers (Jeremy Abbott, Luke Wrubel) – 21 pts
13. PentaBass (Jared Simons, Mike Dippel) – 19 pts
14. Gotta Have More Cowbell (Jesse Larson, Rocky Novak) – 17 pts
Payouts & Awards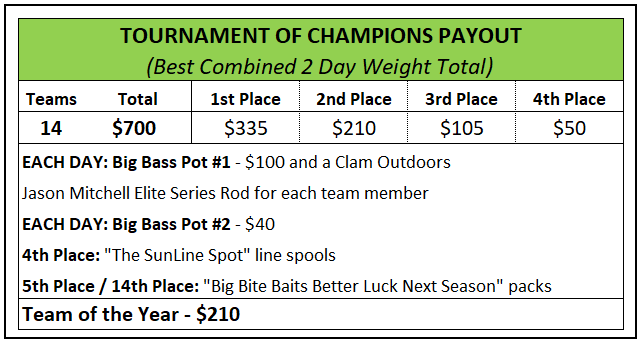 Remember, for each day Clam Outdoors awards each member of the team with the biggest bass Jason Mitchell Elite Series bass fishing rods!
---
Other Tourney Notes
Additional Logistics and Info: MN Bass Tour members will receive a separate email with resort logistics and tournament info.
Tournament Subs: There are no current subs identified for the tournament, please notify tournament directors if plans change.
Non-Members: Sorry, the MN Bass Tour is not accepting any entries from individuals or teams that are not a part of the tour.
---
Good Luck this weekend on Lake Vermilion!
Lake Vermilion Day 1 Results Posted Next post