It's the 2nd Half Stretch!
It's hard to believe that we are officially in the 2nd half stretch of this season! In looking at the team of the year points, there is an incredibly close race making for a lot of fun to see if the top teams maintain their stride or if others will capture lightning in the bottle to run the table!
Welcome to the Zoo Minnetonka – the Most Visited Lake on the Tour
This weekend's tourney will be the 7th time that the Minnesota Bass Tour has been on Lake Minnetonka.
Historical results can be seen by clicking here.
Despite being a heralded bass fishery, members have not always fared on Minnetonka as well as other lakes that we have competitively fished. Expansive structure, weather, and yes, recreational boaters – all create a unique challenge that is different from other lakes in the metro area.
The weather is predicted to remain stable for the few days leading up to the event, perhaps this will change the luck of the anglers for some bigger bags!  Accompanying that prediction, you can bet it will be probably be a zoo out there with rec boaters. Remember 40 mph speed limit and to watch out for those rogue yacht wakes and jet skiers buzzing your port side!
How will the team of the year points look after Sunday? Who will have the most memorable story of a zoo animal? Stay tuned for the results on Sunday!
Here's the schedule, lake details and ease-off order:
---
Tournament #4: Lake Minnetonka
Date-Time: Sunday, July 30    |    6:00am – 2:00pm
Launch & Weigh-in Locations  (Google Maps Link).
Launch: Lake Minnetonka Regional Park (Three Rivers Park System) – Park Entrance Pass is $6 
Weigh-in: South side of Wawatosa Island which is located just north of the Regional Park Launch.
Ease-off Order  (See it drawn on our Facebook Live Drawing too )
1. PentaBass (Jared Simons, Mike Dippel)
2. Gotta Have More Cowbell (Jesse Larson, Rocky Novak)
3. Team Roboworm (Dan Cochran, Billy Linaugh)
4. Bass Lives Matter (Mike Raetz, Mike Davis)
5. Silver Lining (Jeremie Larson, Bruce Larson)
6. Team StrikeForce (Aaron Grefsrud, Derek Jacobson)
7. Shake N' Bake (Lucas Matzke, sub – Andy Bylander)
8. Flippin' Ain't Easy (Rob Bolke, Aaron Schmoldt)
9. Rocks & Docks (Chad Griggs, Derek Griggs)
10. Flippin' & Lippin' (Mike Doughty, Tim Krebs)
11. The Bassassins (Dan Krocak, Jim Krocak)
12. Last Cast (Paul Hecht, Mark Wessel)
13. The Bass Whisperers (Jeremy Abbott, sub – Loren Jannet)
14. DD's (Dane Dornbush, Dan Lindahl)
Payouts & Awards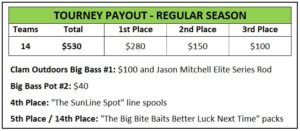 Remember, each member of the team with the Biggest Bass will receive Jason Mitchell Elite Series bass fishing rods sponsored by Clam Outdoors!
---
Other Tourney Notes
Safe Handling of Bass: As a reminder, the MN Bass Tour will uphold the safe care and release of bass. If tournament directors observe any careless handling of bass, that team's bag will be disqualified for that tournament.
Tournament Subs: Below are identified subs, if others are going to require a sub, please notify tournament directors.
Shake N' Bake – Andy Bylander will be subbing for Derek Jacobson.
The Bass Whisperers – Loren Jannett will be subbing for Luke Wrubel.
---
Good Luck this weekend on Lake Minnetonka!