Diverse lakes make MN Bass Tour Members Better Anglers!
Since we started in 2011, the MN Bass Tour has taken pride in fishing diverse lakes across the greater Twin Cities metro area. Members agree that competing on different lakes from one year to the next creates unique educational opportunities as we strive to become better fishermen. A tactic learned on one lake could very well be applied to another that we have as our "go-to" lake.
Additionally, anglers get to discover a new lake they may not have ever thought of fishing and our end of day round-robin discussion on what worked helps us to rethink how we can approach new bodies of water too.
As Directors, we feel diverse lake selection helps minimize our impact on a fishery and public perception of tournaments on lakes that are regular hot beds for screaming bass boats. You can view our diverse tournament lakes by Clicking Here.
It's the "Grind" Tournament of the Season!
Every year we like to throw in a lake that promises to be a "Grind." Generally speaking, these lakes typically don't result in 14 lb bags for the the majority of the field and where 12 lbs just might be the winning bag itself. Forest Lake has typically fell into this "Grind" category however we are excited to see that the lake has been rebounding over the past couple years.
Adding to the perceived limited potential for big bites, this is the first time the MN Bass Tour has been on Forest Lake! The lake will be completely new for some anglers and for those that have fished it may realize that the lake has undergone change since the last time they were on it!
Who will "grind it out" on Forest Lake? Stay tuned for the results on Sunday!
Here's the schedule, lake details and ease-off order:
---
Tournament #3: Forest Lake
Date-Time: Sunday, July 9    |    6:00am – 2:00pm
Launch & Weigh-in Locations
Lake 3 (Eastern Basin), DNR Public Access located on the northeast side of the lake. (Google Maps link).
Ease-off Order  (See it drawn on our Facebook Live Drawing too )
1. Team Roboworm (Dan Cochran, Billy Linaugh)
2. Shake N' Bake (Lucas Matzke, Derek Born)
3. Gotta Have More Cowbell (Jesse Larson, Rocky Novak)
4. The Bassassins (Dan Krocak, Jim Krocak)
5. Flippin' Ain't Easy (Rob Bolke, Aaron Schmoldt)
6. Silver Lining (Jeremie Larson, Bruce Larson)
7. Team StrikeForce (Aaron Grefsrud, Derek Jacobson)
8. The Bass Whisperers (Jeremy Abbott, Luke Wrubel)
9. PentaBass (Jared Simons, Mike Dippel)
10. DD's (Dane Dornbush, Dan Lindahl)
11. Rocks & Docks (Chad Griggs, Derek Griggs)
12. Last Cast (Paul Hecht, Mark Wessel)
13. Flippin' & Lippin' (Mike Doughty, Tim Krebs)
14. Bass Lives Matter (Mike Raetz, Mike Davis)
Payouts & Awards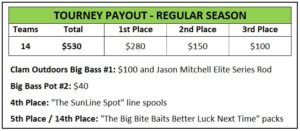 Also the team with the Big Bass will receive Jason Mitchell Elite Series bass fishing rods sponsored by Clam Outdoors!
---
Other Tourney Notes
Safe Handling of Bass: As a reminder, the MN Bass Tour will uphold the safe care and release of bass. If tournament directors observe any careless handling of bass, that team's bag will be disqualified for that tournament.
Tournament Subs: None known/communicated about at this time, If others are going to require a sub, please notify tournament directors.
---
Good Luck this weekend on Forest Lake!