Where Has the Season Gone?
I'm mean, seriously, we are talking that it's mid-August and already our 5th tournament for 2017! As being the last regular season event and a team of the year race that is as tight as ever, MN Bass Tour members will continue to press as we approach the final turn.
That "final turn" of course is a north metro chain of lakes that rarely gets to have tournaments on it – Chisago, South Lindstrom, and North Lindstrom lakes. These are catch and release lakes and offer up some chunky bass that are not hampered by many tournament circuits, we are stoked to have this on our schedule this year!
Catch – Photo – Release
There are various catch and release protected waters throughout the Twin Cities metro area for bass. Awesome lakes, fun lakes! These protected fisheries get minimal tournament pressures that other lakes do creating a unique opportunity to explore and enjoy alternative options in this competitive environment.
How do we do it? Well, we catch, photo, record and release them. Oh, we also have a very trusted group of sportsmen that make up the Minnesota Bass Tour…
There are a couple of circuits out there that feature "Major League Fishing" style tournaments however the MN Bass Tour is not one of them… yet.
Instead, we build upon standard methods to ensure catches are made that day and recorded by photographs. We also utilize a special object that has to appear in each photo which is given to anglers on tournament morning.
Anglers then utilize a length to weight conversion chart to record their daily catch. At the end of the tournament, the tournament directors calculate the winner from the charts and compare that to the pictures.
The Chisago chain has been a heralded fishery in the past, let's see how catch and release is treating this system. Stay tuned for the results on Sunday!
Here's the schedule, lake details and ease-off order:
---
Tournament #5: Chisago, South & North Lindstrom
Date-Time: Sunday, August 13    |    6:00am – 2:00pm
Launch & Weigh-in Locations  Chisago-South Lindstrom Public Access (Google Maps Link)
Ease-off Order  (See it drawn on our Facebook Live Drawing too )
1. PentaBass (Jared Simons, Mike Dippel)
2. Rocks & Docks (Chad Griggs, Derek Griggs)
3. Shake N' Bake (Lucas Matzke, Derek Jacobson)
4. Team StrikeForce (Aaron Grefsrud, Derek Jacobson)
5. DD's (Dane Dornbush, Dan Lindahl)
6. Team Roboworm (Dan Cochran, Billy Linaugh)
7. Flippin' Ain't Easy (Rob Bolke, Aaron Schmoldt)
8. The Bassassins (Dan Krocak, Jim Krocak)
9. Gotta Have More Cowbell (Jesse Larson, Rocky Novak)
10. The Bass Whisperers (Jeremy Abbott, Luke Wrubel)
11. Last Cast (Paul Hecht, Mark Wessel)
12. Silver Lining (Jeremie Larson, Bruce Larson)
13. Flippin' & Lippin' (Mike Doughty, Tim Krebs)
14. Bass Lives Matter (Mike Raetz, Mike Davis)
Payouts & Awards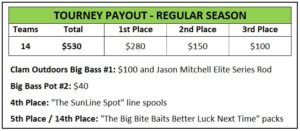 Remember, each member of the team with the Biggest Bass will receive Jason Mitchell Elite Series bass fishing rods sponsored by Clam Outdoors!
---
Other Tourney Notes
Catch, Photo and Release Instruction: MN Bass Tour members will receive a separate email with detailed instructions, recording chart and pictures for properly catching, measuring, and taking a photo of your fish for validation. Stay tuned!
Tournament Subs: There are no current subs identified for the tournament, please notify tournament directors if plans change.
---
Good Luck this weekend on the Chisago, South & North Lindstrom!