Lake Vermilion Day 1 Results Posted!
Team Flippin' & Lippin' (Mike Doughty and Tim Krebs) weighed in 18.20 lbs of Smallmouth goodness to start the weekend. They anchored their bag with a 4.85 lb hawg taking the 2nd big bass for the day. Last Cast (Paul Hecht and Mark Wessell) are in 2nd place and had the biggest bass for day 1, a 5.05 lb slobasaurus smallie.
Team of the Year
The Team of the Year points race is as tight as we've ever seen going into the last day! The top 6 teams are within 6 points of each other.  Flippin' Ain't Easy leads the pack by only 1 point and there is no time to rest for them or any of the competitors!
See Day 1 Results and Team of the Race Here
There's a lot at stake tomorrow for all our teams as we conclude the Minnesota Bass Tour Season!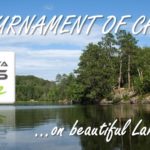 Pre-Tournament: Lake Vermilion TOC Prev post