As indicated in the pre-tournament post, our first-ever visit to Forest Lake was anticipated to be a "grind." Angler expectations were that 12 pounds for 5 bass will be the norm and sorting through 1-2 pounders to fill limits.
After all, perusing other circuits' historical results on Forest seemed to conclude that having a 15 pound bag-o-bass "should" clinch a win. More so than perhaps than other lakes, anglers capable of finding that kicker on Forest Lake "should" find themselves in the winners' circle as well.
Right?
Preconceived notions can blur what might be possible when fishing new lakes, at least it was for this author. The MN Bass Tour was pleasantly surprised at the current state of Forest Lake and will be back again in coming seasons.
The Bassassins "Grind" It Out
Coming off 3rd place on Lake Waconia two weeks ago, the "Ninjas from New Brighton" continued their momentum topping the field with 17.00 lbs. Brothers Dan and Jim Krocak of The Bassassins anchored their win with a 4.65 lb goliath.
The Bassassins nabbed fish from pencil reeds earlier in the day on jigs, noting bass were tucked really close to the inside edge of the cane. But it was the stealth of fishing drop shots on main lake humps – "grinding through 2 pounders" – to cull-up to 3 pounders that got them a respectable total for any Midwestern lake. Their eventual kicker was found out there as well to help clinch their third ever 1st place finish!
The Rest of the Field
Rounding out the top 4 spots is Silver Lining (Jeremie Larson, Bruce Larson) 2nd place with 16.10 lbs, Team Strike Force (Aaron Grefsrud, Derek Jacobson) with 15.10 lbs taking 3rd, and the 4th place Sunline Spot going to The Bass Whisperers (Jeremy Abbott, Luke Wrubel).
From the Team of the Year points race, Silver Lining leads with 32 points. However, the team parity speaks volumes to the skill level of MN Bass Tour Members as 5 points separates the other top seven teams and a modest difference exists for the rest of the field.
With the second half of the season starting up it is still very much anyone's game!
Historical Numbers!
Each of the teams above and others commented on similar schools of 2 pound fish being the "grind" so to speak. The broader team results also speak volumes to the status of the fishery too. Check this out:
Total Overall Weight – 14 Teams: 196.65 lbs (6th most in MN Bass Tour History)
Only Mille Lacs (2016 – 244.85 lbs), Woman Lake (2016 – 217.50 lbs), Koronis (2015 – 217.40 lbs), Koronis (2017 – 212.65 lbs), and Clearwater (2016 – 207.00 lbs) are ahead of the Forest Lake total, pretty good company of lakes.
Average Bass Size – 70 Bass: 2.809 lbs (9th most in MN Bass Tour History)
Remember the grind mentality and getting that kicker? 6 of the 14 teams weighed in bass over 4 lbs!
It took 7 years for the Minnesota Bass Tour to visit Forest Lake. It goes without saying that the lake is coming back and most certainly will be on the schedule again (read: we probably won't wait 7 more years).
See how Forest Lake stacks up historically in the MBT Historical Records.
Pictures and video will be posted soon here and on the Minnesota Bass Tour Facebook page.
Clam Outdoors | Jason Mitchell Elite Series Big Bass Award
The Bassassins were awarded the Clam Outdoors Big Bass of the day, a 4.65 lb kicker caught on dropshot. Coincidentally this marks the second tournament in a row for them to win the coveted prize of two Jason Mitchell Elite Series Rods along with the $100 side pot cash.
---
Next Up: Lake Minnetonka on July 30th
Stay tuned for another Facebook Live drawing for boat order!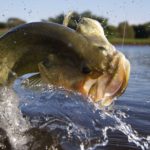 Pre-Tournament: Forest Lake Prev post
Pre-Tournament: Lake Minnetonka Next post